Post by creadur on Mar 28, 2018 22:45:42 GMT 1
Hi. I have recently acquired a hammered dulcimer and, as a non-player to date (although I already play other instruments), I have a few questions on how to proceed with it. It is a 16-course instrument (8-8 in the lingo, I think). I am aware that this is small, as dulcimers go, and therefore somewhat limited in its range. I had the opportunity to show it to klezmer tsimbl player Pete Rushevsky, who reckoned it was English-made - so probably built with simple English dance tunes in mind rather than relentlessly modulating and mode-shifting klezmer tunes. I am experienced at stringed instrument repair and setup but have not worked on a hammered dulcimer before, so I could use some pointers.
The questions:
1. I would like to try playing klezmer on it. Is it possible to use a chromatic tuning on a dulcimer like this (accepting that its range would be compromised)? Would the bridge positions need to be altered? Where can I find information on dulcimer tuning systems?
2. As I understand it, the short after-lengths of the bass strings are not normally used. Is it possible to make use of them, perhaps by adding little saddles under them near the pegs? Is this asking for a free lunch?
3. The tuning pegs are of a non-standard shape - kind of paddle-shaped rather than the usual tapered square. Are there tuning levers available for this type of peg? Will I need to make one myself?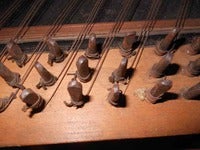 4. There is a 3mm-wide split running the length of the soundboard. I am told that this is just a cosmetic issue - do readers here agree? The back and rim are very solid, without any splits. I am capable of repairing the soundboard if necessary, but would rather not take the instrument apart if I don't need to.
5. The dulcimer came without hammers and I would like to have a go at making some myself. I should be able to borrow a pair to copy, but any general bits of advice would be welcome - choice of wood, type of padding (felt, thread, leather, none at all?), length, weight etc.
That's all I can think of for now. Any help will be much appreciated. In the meantime, there's plenty of rust for me to clean off.